We Care Affordable Moving Corporation is a family owned and operated business that takes pride in providing the best moving and packing services you can find in Central Florida for extremely low rates compared to other Florida moving companies.
We quote each job as low as we can, while still including everything needed to provide excellent services in every way. Depending on the size of the job, we generally have at least three men assigned to every move, one of which is always one of the family owners of the firm overseeing every aspect of your move.
We also quote a flat rate for every Florida moving job and stick to it, so there are no additional charges or surprises. If something costs more than we quoted, we take the responsibility for it. And as experts in Florida moving, we can take the heat!
We have multiple vehicles for large and small jobs so we can assign the most economical truck and crew for your particular situation. We also handle every kind of move including residential apartments and condos, homes of all sizes, retirement communities, offices and commercial relocations.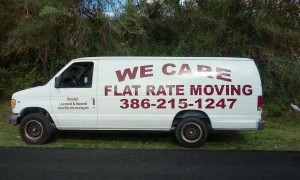 We also have an excellent reputation with our customers who highly recommend us to everyone they know that need a Florida moving company. In fact, most of our business comes from referrals, including local businesses that call us whenever they have a need for professional movers.
Please let us know if you are considering a move, and with a few quick questions, we can usually give you a quick, flat-rate quote right over the phone!
Call Javier, at 386-215-1247. I guarantee you will be pleased with our service.
Owner, Javier Morales