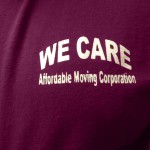 Rated Best Movers in All Central Florida. At We Care Affordable Moving, we are very proud to have such high recommendations and referrals from our customers.
After all, expect nothing less from us, considering just how careful and attentive to detail we are with every item that we pack and move. We treat your property even better than we would treat ours! Thus the reason why we have been rated best movers in all Central Florida.
Below are just a few examples of the glowing testimonials we've received from our happy customers:
I have moved several times and have usually been unhappy with the moving companies I've used. But with We Care Affordable Moving, I couldn't believe how careful they were with everything—especially my piano which did not even need to be tuned again after the move this time. That says a lot! I will use We Care Affordable Moving from now on.
We hired We Care Affordable Moving to move our retail store which involved packing and moving a lot of glassware and fragile products. We were amazed at how well the entire move was organized. They planned the order that everything was packed in so that everything just came together perfectly at the new store. This is not just a moving company, but very smart experts on efficient relocation.
We were referred to We Care Affordable Moving when when we needed a moving company to handle our antique furniture collection. Though we were nervous about moving at first, we were so impressed by how the We Care Affordable Moving guys went out of their way to pad and protect each item so carefully that we ended up just leaving it to them. Needless to say, everything was relocated without a scratch. These are the best movers we have ever seen!
We are honored to be Rated Best Movers in All Central Florida by our loyal customers!
Please call Javier at 386-215-1247 for a moving quote.